Monday, May 20, 2013
|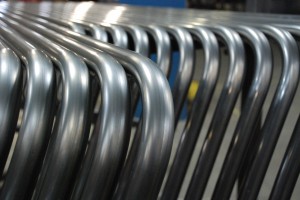 Don't talk to Nelson Global Products CEO Tom Gosnell about the historic decline in manufacturing in Wisconsin and across the U.S.
It's not that he doesn't believe it, of course. U.S. manufacturing has comprised a shrinking share of employment and gross domestic product for decades, largely due to automation and the rise of the service sector.
But it remains an important industry, and its overall drop runs counter to the trajectory of Gosnell's young and rapidly growing Stoughton-based company — which employs 2,800 worldwide to design and make metal tubes mostly for exhaust systems and structural components for commercial vehicles in the on-highway, off-highway and small engine/recreational markets.
"I think the loss of manufacturing jobs and capability in this country is tragic," said Gosnell. "We refuse here to accept the notion that we can't compete for business in North America by manufacturing in North America. We absolutely believe we can."
And it does look that way from where he sits now.
Created in 2010 as a portfolio company of Chicago private equity firm Wind Point Partners,
Nelson Global was cobbled together by Gosnell and his partners to become an international manufacturing conglomerate, with plans for more growth in the next few years.
They've done it mostly by checkbook, buying six companies in less than three years to give their firm — which took its current name in spring 2011 after acquiring longtime Stoughton employer Nelson Industries from Cummins Corp. — a strong safety net of diverse markets, goods and customers.
"It's been built through acquisition, with more intent than is perhaps apparent about how we pieced it together," Gosnell said about Nelson Global. "In the time that we bought the six companies, we've also chosen not to buy seven companies that were available. So we did work through that."
"We needed to acquire enough scale, and manage our balance sheet well enough, that we could sustain through the inevitable slumps," he added.
Nelson Global now boasts 13 manufacturing plants — nine in five U.S. states and four international — and a new, $3.75 million, 25,000-square-foot corporate headquarters that opened in January in Stoughton on Williams Drive, where about 110 people work.
"Before we were in a shared facility, which is always difficult," said Sue Vanderbilt, Nelson Global's vice president of business integration, about the company's former home in the Cummins complex at 1801 Highways 51-138 in Stoughton. "We have a lot more conference rooms here, and better ability to bring customers in. It's a whole different atmosphere."
Some 715 employees work at the company's three Wisconsin factories in Viroqua, Black River Falls and Arcadia, and Nelson Global also has two product testing and research labs, in Stoughton and Chaska, Minn., plus a distribution center in Baraboo that opened after the Cummins acquisition.
Its foreign factories are in Australia, India and China, plus, through its most recent acquisition in May, in Rio Grande do Sul, Brazil.
Gosnell said Nelson Global factories, both in the U.S. and abroad, were targeted for purchase so as to be near the manufacturing plants of the company's major customers, including John Deere, Caterpillar, PACCAR and Navistar, which make trucks and other vehicles and equipment used in construction, agriculture and over-the road hauling.
Those companies are global and expect their suppliers to be as well, Gosnell said.
In Brazil, for example, Nelson Global for an undisclosed sum acquired Envall, a tube and hose assemblies maker, mainly to supply parts to the nearby John Deere and Ag-Co plants.
Gosnell acknowledged cheap foreign labor may have initially been part of Brazil's draw for manufacturers, but he said there was more to it than that.
"They used it (initially) as a market from which to export," he said. "But there's very strong consumption in Brazil for that kind of equipment, too. Whether it's over-the-road trucks, or construction or ag equipment, there's a significant enough market. It's a very big country with a lot of natural resources."
Gosnell said Nelson Global ships almost no products to the U.S. from its foreign factories.
"Although we have foreign locations, those are to serve those markets," he said. "We don't export back to here — maybe one-tenth of 1 percent of our sales, if that. It's just miniscule. We do a little bit from China, some very simple parts.
"The bulk of what we sell in North America, almost all of it is produced here," he added, with company factories in Peoria making products for nearby Caterpillar and Komatsu plants, for example, and Wisconsin factories making parts and equipment needed by area John Deere factories.
"It's almost serendipitous, because the agricultural base that exists there means you have the availability of a labor pool that actually knows how to make stuff," he said, about the company's Wisconsin factories. "They know how to work, they're good with manual labor, manual dexterity, and they have fundamental skills around machining and welding. So it makes a very good combination for us to manufacture there."
Nevertheless, Nelson Global, like many other manufacturers, has had trouble finding enough skilled labor for some jobs. So, about two years ago, the company started offering in-house training for staff in its plants in Tennessee, Illinois and Wisconsin.
"Welding is the big thing we get pinched on occasionally," Gosnell said. "We have to do training for welders and also for some of our more complicated tube-bending machines, because some of that is computer-controlled machinery."
Factory workers at Nelson Global who weld or bend tubes earn $15 to $20 an hour in base pay, Gosnell said, with basic warehouse workers making a bit less. The company also offers a matching 401(k) plan.
Over the past few years, though, it's been tough getting enough steady work to keep everybody busy. Manufacturing helped lead the way out of the recession that officially ended in June 2009, but the recovery has been slow and spotty.
The economic downturn has caused layoffs and shift reductions at Nelson Global, most recently early last summer after a brief surge in the off-highway sector ended sooner than expected.
In response, a company-wide salaried layoff claimed about 10 percent, Gosnell said, along with a slightly deeper hourly worker reduction and the elimination or suspension of many temporary labor contracts.
Gosnell expected the off-highway market to remain down by about 10 percent this year, driven mostly by a global reduction in deep mining. That affects company customers such as Caterpillar, which makes huge excavators for mining.
Nelson Global also saw a downturn last year in the on-highway market, after it surged in late 2011.
Several factors shut down the surge after only six or seven months, Gosnell said, including political uncertainty leading into the national elections, economic woes in Europe and a general lack of consumer confidence in the economy.
Like many other companies, Nelson Global used the downturn to streamline processes and cut costs internally, to be better positioned for the long-term recovery, whenever that comes.
"We're starting to see signs of it," Gosnell said, citing announced build-rate increases at semi-truck factories run by PACCAR and Navistar.
"We think we're going to see a recovery beginning this summer in the on-highway, over-the-road sector," Gosnell said. "So we have the on-highway recovery to balance out the off-highway decline."
Over his decades of work in the commercial vehicle industry, Gosnell said the biggest trends have been:
Increased technology in vehicles, requiring components with a longer life cycle.
Tightening emissions standards, which has changed the type of components needed. Basically, systems designed to reduce emissions in large vehicles generate more engine heat, so tubes used to move exhaust and fluids must be insulated to prevent them from melting other engine parts, while still keeping the air hot enough to be a catalyst for internal combustion.
Increased consolidation of suppliers, a phenomenon of which Nelson Global Products' creation and development is a prime example.
"Those have been the changes," Gosnell said. "The constant has really been that these large-end customers (such as Caterpillar and John Deere) have remained intact and weathered all those changes and different cycles in the economy."
Looking forward, Gosnell sees more change and growth for Nelson Global, including the acquisition of another factory in China and the construction of a plant in the Southwest U.S. starting in late 2013 or early 2014.
The company also believes it needs another manufacturing facility in Brazil, either built new or purchased, and leaders hope to start increasing business organically — rather than just by acquisition — through increased training and selling capabilities achieved during the down-time reorganization.
More broadly, leaders hope to continue creating a sustainable operation, Gosnell said, for the good of employees, customers and the company itself.
"We're all about building something that will be here 50, 70, 100 years from now," he said.
NELSON GLOBAL PRODUCTS
What it is: Manufacturer of metal tubes for exhaust systems and structural components involving access and rollover protection in commercial vehicles
Core processes: Tube-forming, stamping, welding, painting
Owned by: Wind Point Partners
CEO/president: Tom Gosnell
Corporate headquarters: 1560 Williams Drive, Stoughton
Factory numbers, locations: One each in Arcadia, Black River Falls and Viroqua; one each in Clinton, Tenn., and Fort Wayne, Ind.; three in Peoria, Ill.; one in Cambridge, Minn; and one each in Australia, India, China and Brazil
Other locations: Distribution center in Baraboo; product testing lab in Chaska, Minn.; and research lab in Stoughton
Employees: 2,800
Web: nelsonglobalproducts.com
Revenues: Declined to disclose